We're excited to start creating again at
Just Christmas and Birthday Cards
. This weeks sketch was created by Linda. I really enjoyed the layering in her sketch. I've decided as part of my creating this year I want to use more of what I have and not think I need something new every week! Easier said then done, right! Well, this challenge brought me to one stamped image, a new Magnolia which I adore. By clipping the holly from her hair and coving it with a little knot of red thread, I used the same stamp, with papers from the same line / stack, to creat both my Christmas and Birthday card. This is not only user friendly to my resolution, but it also made creating both cards a lot simpler for me. Not quicker but simpler :)
Be sure to check out the other design team cards. Everyone did a great job this week as always! Try the sketch out for a chance to win a really fun stamp 'the faith lady looks shy', kindly donated by
The Crafty Pad.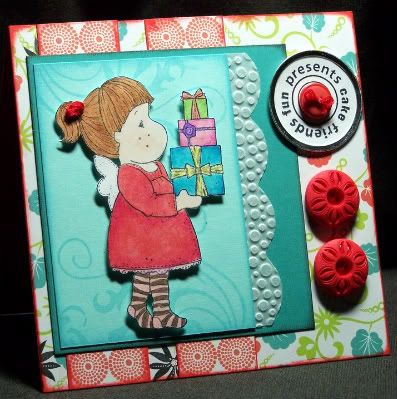 Magnolia stamp "Tilda With Christmas Presents" found at
Stempel-Phantasien
Paper is from Me and My Big Ideas stack and transparent vellum
Circular stamps are Scrappy Cat for birthday and Limited Edition / Danelle Johnson for christmas.
Happy Holidays is from Making Memories, Fa La La set.
Circular stamps are inserted into a tag, using the Tag Maker from Making Memories.