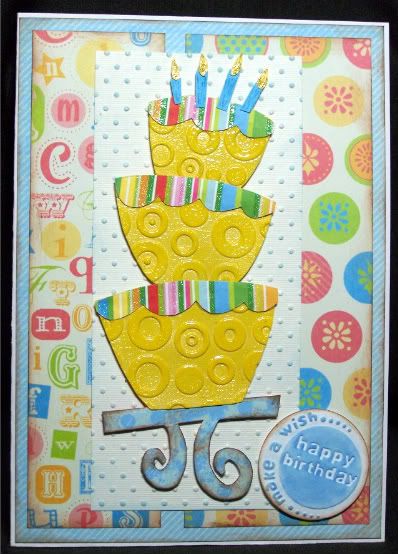 Welcome to a new week full of beautiful SPRING days... at least that is what we're enjoying! I'm a little late posting this week... really a little late with everything but when it's nice out I just have to enjoy it! They're calling for rain the rest of the week so we knew we had to enjoy the sun while it lasted!
This week at
The Cuttlebug Spot
we celebrated CAKES or CUPCAKES!!! Yeap... we all know tons of people and they all have birthdays so this challenge is superb for just about everyone... especially with all of the fun cupcake ideas buzzing the craft world right about now! That is the path I thought I'd take but then I found this great paper piece idea and pattern at
Scrapbooksetc.com
. Normally I don't really pay much attention to these emails but something caught my eye last week so I started browsing. They had some really fun ideas and this cake was looking mighty tasty to me. I had to try it out. I was feeling pretty good about my card until I saw all the other DT cards this week! I still like it but WHOA the ladies have really outdone themselves this week. Be sure to stop by and also show us your tasty treat this week!
Paper~ DCVW Spring stacks, print and cardstock
Cuttlebug~ A2: Swiss Dots, Spots & Dots. Small 4 pk: Happy Birthday
Cake heat embossed with transparent powder.
Candles stickled with Yellow
"Happy Birthday" inked after embossing.